Post by cfesmire on Oct 19, 2009 1:28:00 GMT 1
In looking at Christians post on the Fulda meet, I am reminded of the upcoming Springfield train show in which the 1/87 Vehicle Club has been offered some table space. Several members have gotten together at the behest of Bob Johnson and come up with the idea that a vehicle module, much like the way Fre-Mo railway modelers join modules together for shows would make a great presentation for displaying our vehicles. Without going into much detail, there will be uniform standards for size but instead of a rail connection between modules, there will be a highway.
For my own module I have decided to do a New England farm. This farmhouse is the first project of the module I have worked on. I have decided to construct it out of styrene similar to the structures in my small tutorial on the subject. After drawing the structure to scale and printing it out on Manila card stock, I cut the styrene from the Manila templates. I used a .040" spaced clapboard from Evergreen this time and glued the .060" square rod corners to the gable ends along with the rake boards and then glued all the walls together. The windows and doors are all from Tichy.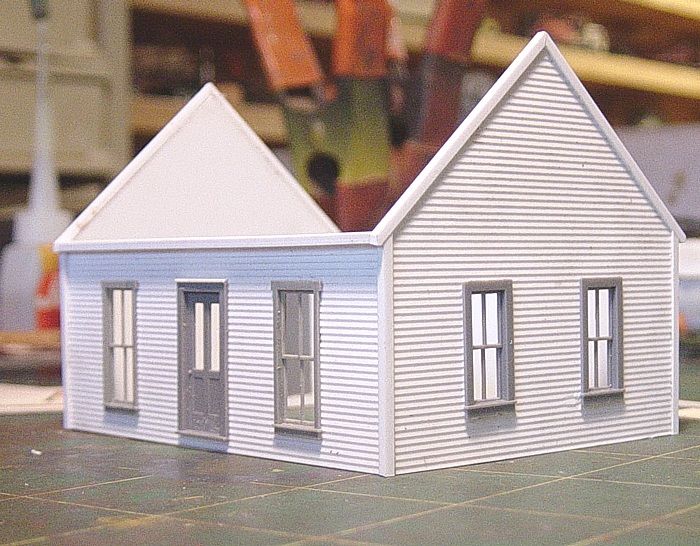 After spraying the interior flat black and painting the exterior RR tie Brown PolyScale acrylic I let dry. I then used an acrylic wash of gray and dry brushed the trim with a lighter gray.
Next step was to glue the shingles on the roof (of the manila) from GC Laser. I also constructed a small addition of .060" styrene and scored the clapboard pattern to represent cedar shakes and a roof of brass foil scored from the back to look like a standing seam metal roof. The chimney is the brick pattern from Evergreen that has a capstone of real slate and tissue paper flashing to replicate lead.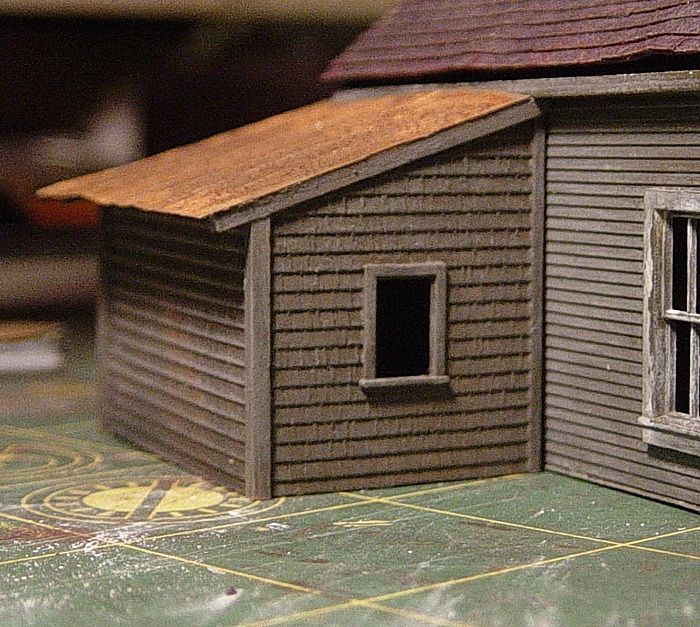 Finally, I made a brick foundation of the same evergreen brick pattern and colored the clapboards with a buttermilk paint mixed with alcohol like a wash. This paint is something I use in my business in the finishing of reproduction furniture. Glass (clear acrylic) was installed and curtains made of tissue paper were made.
The building now sits waiting to be set on the module and have the adjoining barn constructed which will be of wood. I look forward to being able to display a large number of agricultural vehicles on this module.